The basis of your life is absolute freedom, the goal is joy, and the result of that perfect combination is motion forward, or growth. Your goal is to find objects of attention that let your cork raise.  –Abraham Hicks
When I smell a peony my whole being elevates and wrapped in the sweet light aroma of a the flower, no problems disease troubles are present and I am filled with joy of being. When I painted this bloom I did so as a reminder of the joy. It stirs my senses and tugs at my heart and with that energy I can move forward and out of the vibration that has created discomfort. I can absolutely confirm this painting will not only get your attention but will help you move forward so your cork, too, raises.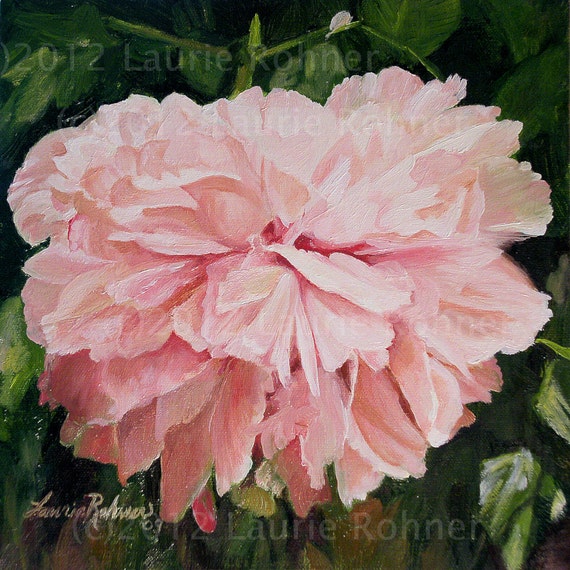 Botanical Oil Painting Pink Peony Garden Flower Canvas Original Nature Art
Botanical oil on canvas painting of a garden flower titled Single Pink Peony is original nature art painted by hand of Laurie Rohner.
I love peonies. My artwork shows all the different shades of pinks contrast against the dark jungle green with detailed realism. What a spectacular painting for today's farmhouse cottage or loft style homes.
When I lived in New Jersey I couldn't wait for my peonies to bloom. Being a florist at the time I was also an advent gardener and I had a complete section which consisted of a variety of peonies. This painting I did from a photo of one of my prized peonies.
Title: Single Pink Peony
Medium: Oil on Canvas
Palette: petal pink, soft cream, red, raspberry, deep green oxide, hunter green, umber, soft green.
Canvas Size: 10 x 10 inches
Signature: Laurie Rohner on front, title, signed, date, information on card enclosed on verso.
Unframed.
Ready to hang!
The painting measures 10 x10 inches on wrapped canvas (3/4″ deep) with staples hidden under wood on the back. These paintings have beautiful color and a great finish from high quality oil paints.
The staple-free sides of the canvas are painted. The painting continues around to the sides – framing is not required.
Buy art, original oil painting on canvas nature art, inspired by gardens and nature, use as wall art. Original art for sale online here at Between The Weeds at Etsy. You will love my individually hand-painted art work. Great for gift giving. Ready to Hang.
Great in nursery baths kitchens beds and use with any decorating style.
Give as a birthday gift or new home buyers gift.
All rights are not transferable with the purchase of this painting and remain with the artist.
The copyright is for photographing and does not appear on the original.
Your painting is then safely packed and shipped via Priority Mail.
I ship everywhere please before you order ask for international shipping actual charge to your location. The price for shipping everywhere is only an estimate.
For more info about paintings
Web:
http://laurierohner.com
http://paintedfurniturestudio.com