"If you are waiting for anything in order to live and love without holding back, then you suffer. Every moment is the most important moment of your life. No future time is better than now to let down your guard and love."
– David Deida, is a best-selling author and teacher.
Etsy has changed the look of the shops and I love it. This is a fabulous original watercolor available for you today. I noticed my shop had plunged in views and business let's say sank in the shop. Now it is back and running even stronger. I should have remembered how much I love this community and stopped thinking for some reason it was against (just) me. Things can look very negative when you put your guard up and stop believing in your business and primarily you. I am thrilled with my shop again. I am adding and updating many of my nature inspired custom work with some of the items seeing lower prices. It is fabulous to feel good energy in my shop and stopped the suffering.
What are you not seeing in your life? What have you put guards up for and stopped loving? Can you see the love flowing back into your life?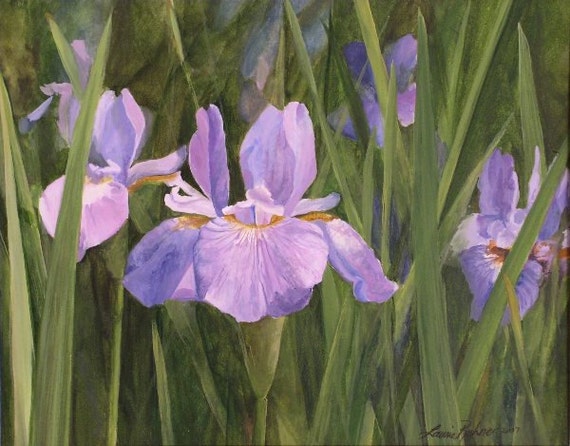 Iris Watercolor Nature Art Botanical Garden Landscape Original Painting by Laurie Rohner
Botanical garden nature art Wild Iris is a watercolor original painting by Laurie Rohner of a botanical garden landscape. My painting is a realistic detailed painting of blue iris against dark green leaves and stems.
These iris are from the iris gardens in Northern NJ. Imagine a spring day sunny with a gentle breeze and along the back bank of the garden stands hundreds of this wild iris moving back and forth as if dancing to nature's music. It is one thing I miss about New Jersey.
Measures: 11″ x 14″.
Unframed
Color Palette: purple, lavender, periwinkle, cream, orange, leaf green light leaf green.This is a watercolor on watercolor board.
Wild Iris is unframed and I used watercolor board. It is watercolor paper already mounted on a backer acid free illustration board. It is about 1/8″ thick.
The copyright does not appear on the original.
Ask about shipping charges outside the 48 states.
I ship everywhere please before you order ask for international shipping actual charge to your location. The price for shipping everywhere is only an estimate.
All rights are not transferable with the purchase of this painting and remain with the artist.
The copyright is for photographing and does not appear on the original.
Your painting is safely packed and shipped via Priority Mail.
For more info about paintings
Web:
http://laurierohner.com
http://paintedfurniturestudio.com