It has been some time that I headed into the studio to do work with my favorite beings, fairies. My life has been much like a cloud on a windy day shooting across the sky while the lower clouds move slower. Life is like that with different layers and when you stare up at the different layers you can become disoriented and unbalanced because your perception is distorted. If you force your eyes to concentrate on the images in the sky, you become conscious of their shapes and colors. Now you stop swaying and feel balanced. I focused on the images and colors discovering my focus was off, making me into a spinning whirlwind of chaotic feelings of fear, anxiety and doubt.
I needed to stop what I was doing and look at the information right in front of me. What was it saying? Think about your own life and why are you scattered like a cloud on a windy day. I had an image of who and what I thought I was and found out I was working and doing what someone else had said I should do. You're a doctor but you really wanted to be a vet or you are working in an office when all you want to do is travel and see the world. Somewhere I can bet someone planted the idea of what you should do and you unconsciously followed the suggestion.
Everyone needs to look at their own situations with an open mind. Only you can decide if it is a tape someone planted in your head or is it you just have not given it your all.
Our lives are full of experiences and they all lead up to fixed moments in time. No matter how we arrive there we will eventually arrive. I think these are one of the times in my life where every task and every creation I have made has brought me to this point.
The other night I dreamed of a world in the lush forest where beings of light lived. I felt very much at home and safe there. I was finding an answer to questions I was having about my work. I work everyday creating but not selling much, this saddens me and I can feel myself fill with anxiety. In this wonderful lush woodland I found calm loving energy and it I felt it was a place I knew and could call home. When I woke this feeling stayed with me which for me is unusual, I do not usually remember dreams. Since this dream I have been a mad woman creating woodland fairy houses and fairy furniture. They seemed to flow from me in a creative burst. They all took on their own lives. It is a fabulous feeling to be in the flow of creative energies.
Woodland Fairy House Artist Loft with Custom Fairy Furniture
Woodland Fairy House is an artist loft style fairy house. Fairy furniture comes with the custom sculpted woodland fairy house. Use it inside or in t he garden. It is a special fairy house for creative people who want to share their homes with other creative beings.
The loft comes furnished with an upstairs conversation area for the creative fairies to discuss and critique the resent work from downstairs in the studio. There is a couch and table with a fountain that can be lite. A ladder leads to the loft but as you know fairies seldom have to use.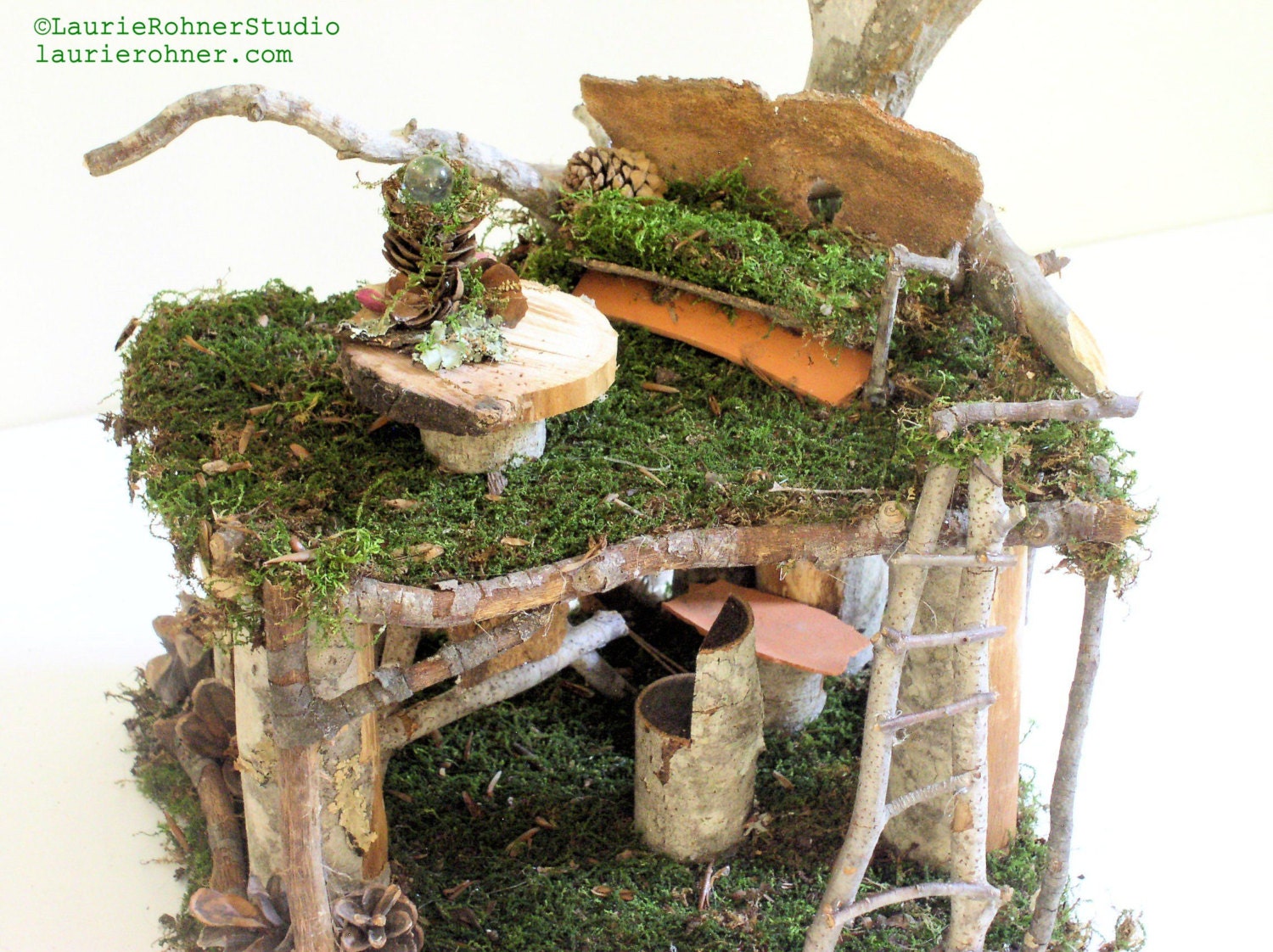 The lower level is the artist studio are and has an easel set up for the next great fairy art work. A clay top table is in the corner and a stool is in front of the easel. It is open and airy just like any loft should with large columns supporting the top. In the back is an old crows feather I just happened upon the other day.
The house is ready for creative people to share with the fairy artist who will dwell inside. If you are lucky and be kind to her or him I know you will find your imagination soar.
Magical mystical and certainly will be a conversational piece of art.
House Size: 12″wide x 9″deep x 10″ high.
Shipping Weight: 5lb.
Woodland Fairy House with Mystic Fairy Bedroom Furniture in Branch Faerie House.
This Woodland Fairy House was handmade for a mystic fairy friend of mine and is furnished with custom made faery bedroom furniture. This is a branch fairy house for inside or out in the garden. Constructed with things found in nature makes this special magical woodland fairy house a sculpted one of a kind work of nature art.
Inside the fairy house you find a handmade twig and moss bed with a burlap rug underneath (my fairy friend requested this) and across is a twig cabinet with a birch bark top, on top of the cabinet is a clay tray. On the front side of the house is a clay topped table with her very special gazing globe, remember she is a mystic. In the back of the house is a large window for star gazing and daydreaming. On the outside of this woodland fairy house i used pine cones moss and branches with seed pods birch bark and a few bits and pieces I found along the way.
Everything is hand glued into place on the woodland fairy house and the furniture is handmade and glued into place.
I include your fairy name on a special handwritten card with each woodland fairy house. A thank you from the fairies along with their blessings. Special offer when you buy at Laurie Rohner Studio only.
Measures: 12″ x 10″ x 8″
Shipping Weight: 4lbs
See what I mean about these creative sculpted woodland fairy houses? They are very unique one of a kind conversation starters.Buy a fairy a woodland fairy house and think of the happy joyful energy that will surround your home and your life when you add this fairy cottage to your house.