"The distinction between the past, present, and future is only a stubbornly persistent illusion." ~Albert Einstein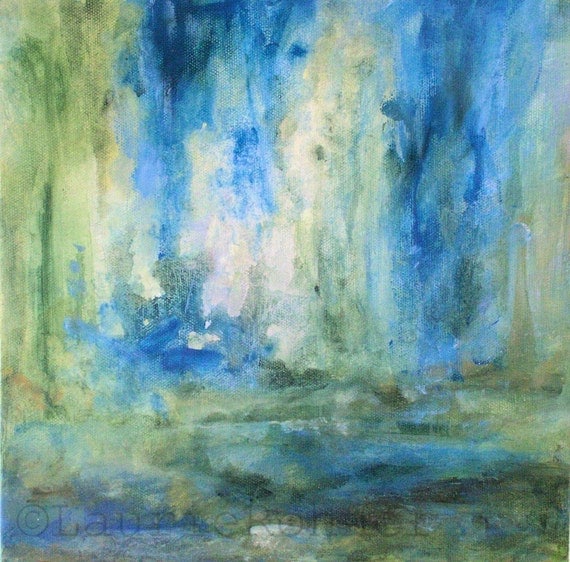 The fluid flow of this abstract nature art acrylic painting is serene blissful illusion. I painted it in shades of creams and brilliant blue with dashes of leafy lime greens and navy blue layers blended subtly. This is my version of what spring is with rain showers and waterfalls bringing forth the crisp green of grasses and leaves. This painting is titled 'Spring' hand painted by Laurie Rohner.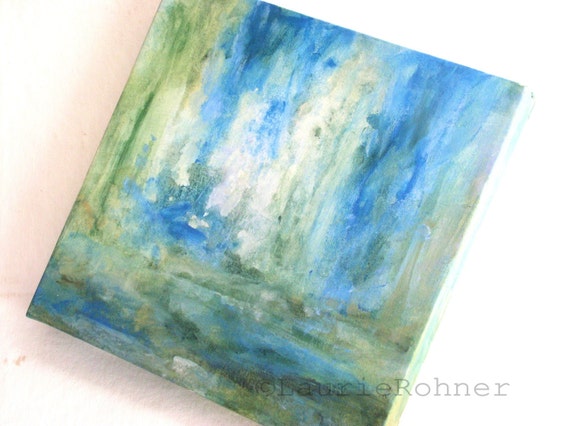 Titled: Spring
Medium: acrylic on canvas
Palette: cream,cobalt blue,cadmium green, denim blue, white, yellow, umber.
Canvas Type: Gallery Wrap
Canvas Size: 10 x 10 inches
Image Size: 10 x 10 inches
Signature: Laurie Rohner on front, title signed date on enclosed card in back.
Unframed.
Ready to hang!
The painting measures is on a gallery wrap canvas (1.25″ deep) with staples on the back. This painting is beautiful color and a great finish from high quality acrylic paints.
The staple-free sides of the canvas are painted. The edges are a continuation of the painting. The painting is varnished. Ready to hang or perch on a shelf or small easel.
All rights are not transferable with the purchase of this painting and remain with the artist.
The copyright is for photographing and does not appear on the original.
Your painting is then safely packed and shipped via Priority Mail.
For more info about paintings
Web:
Laurie Rohner Studio
Painted Furniture Studio