Today's little inspirational thought for you to ponder.  Life is your canvas; no one can paint it but you. Each moment is an invitation to create yourself and the life you've imagined. Too often we wait for the "big" occasion or "just the right moment" to celebrate life. Your days are just waiting to be enriched with creative thought, joyful purpose, and inspired meaning.
Woodland Oil Painting Vermont Landscape Fairy Forest Nature Art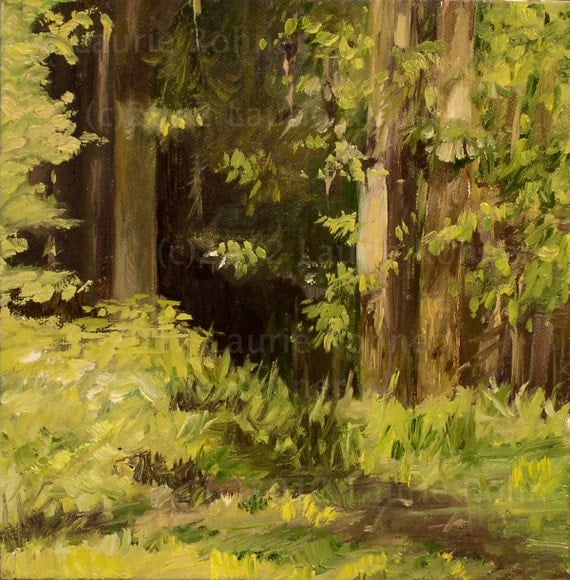 Woodland Vermont forest landscape oil painting on canvas of Fairy Trees hand painted nature art by Laurie Rohner. This original artwork gives you the viewer a look into the landscape of a serene enchanted forest where fairy play.
Inspired by the Impressionist style, my original oil painting shows a wooded landscape opening filled with ferns and sweet tall grass and surrounded by lush scented pines and spruces. It was a special place I would walk to in Vermont.
Titled: Into the Woods
Medium: Oil on Canvas
Palette: umber,dark chocolate, green, yellow green,browns.
Canvas Type: Gallery Wrap
Canvas Size: 8 x 8 inches
Image Size: 8 x 8 inches
Signature: Laurie Rohner on front, title signed date on enclosed card in back.
Unframed.
Ready to hang!
The painting measures is on a gallery wrap canvas (1.25″ deep) with staples on the back. This painting is beautiful color and a great finish from high quality oil paints.
The staple-free sides of the canvas are painted. The edges are painted a rich chocolate to resemble dark wood. The painting is varnished. Ready to hang or perch on a shelf or small easel.