"Letting go gives us freedom and freedom is the only condition for happiness." ~Thich Nhat Hanh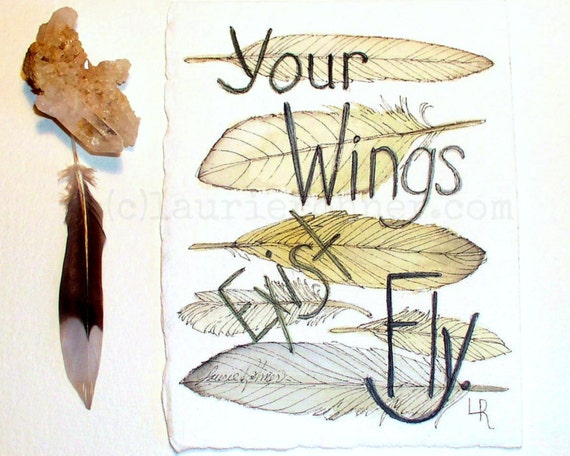 Watercolor feather illustration of woodland nature art quote ' Your Wings Exist Fly ' is original artwork by Laurie Rohner. I love to spread inspire and share hope and possibility. This is a reminder that we all have wings to fly wherever we want to go in life. Sometimes it is hard to find them but they are always there, that's it see you found them.
Buy art, original watercolor nature art, inspired by autumn and nature, use as wall art. Original art for sale online here at Between The Weeds at Etsy. You will love my individually hand-painted art work. Great for gift giving. Can be framed later.
This is an original watercolor painting not a print or reproduction.
I combine drawing with pencil and watercolor painting, then with ink.
Arches 300lb hot pressed watercolor rag paper.
This is slightly rough thick hand made paper.
Image size is 5″ x 7″.
Paper size is 5.5″ x 7.5″
Small Fact: The paper is so thick you can attach a ribbon to the back and hang it.
Sale includes the one signed art work only – additional cards, frame, mat etc. are not included in sale.
My nature art work is original one-of-a-kind paintings that are suitable for framing. The watercolor art you will receive has its own unique and individual qualities only an original watercolor can give.
All of my watercolors are made with the finest archival quality materials – Arches Watercolor Paper and Windsor and Newton Artists Quality Watercolors – and professionally packaged to arrive safely.
Windsor and Newton Artist Quality Watercolors are renowned for their superior color permanence, balance and amazing color range.
All my art including this artwork are original miniature watercolors suitable for framing, enjoy them in your home or send as a unique gift to that special someone.
For more info about Laurie Rohner Studio visit.
http://laurierohner.com
http://PaintedFurnitureStudio.com