"We often hesitate to follow our intuition out of fear. Most usually, we are afraid of the changes in our own life that our actions will bring. Intuitive guidance, however, is all about change. It is energetic data ripe with the potential to influence the rest of the world. To fear change but to crave intuitive clarity is like fearing the cold, dark night while pouring water on the fire that lights your cave. An insight the size of a mustard seed is powerful enough to bring down a mountain-sized illusion that may be holding our lives together. Truth strikes without mercy. We fear our intuitions because we fear the transformational power within our revelations."
Uneasiness, apprehension, fear is rampant in my world. I stopped today and asked myself why? Is it the perception others have or is it one I believe? I think if everyone would stop and listen to what the world is saying we would all have a great laugh. I think it is one big lie and I am not participating in the lie anymore. So what does that mean? Following the heart and not the head, knowing I have the best intentions for the best deserving joyful life. I see the mustard seed and the illusion is dissolving disappearing as I write.
What I am starting is working with art. Watercolors on cards for only $10. This is my mustard seed. Painting original art on cards with pencil watercolor and ink and shipping them off to you at no charge in the USA. I am not printing them or offering wholesale prices. I am offering one of a kind nature art. Owls and crows or flowers to landscapes that or magical or mystical and you can order a card to suit the occasion. Takes about a day or two to paint one up. The petite watercolor illustrated paintings are sized to fit a 5″ x 7″ matte opening, come with an envelope and are blank inside. Nice for giving to someone as hostess thank yous or teachers. Check them out at Between The Weeds Etsy Shop for now. I plan to have them in the studio too.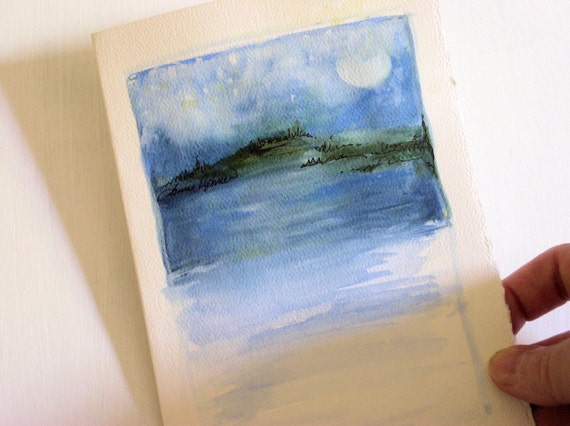 I adore the moon and water, When I get the chance to see a full moon in the sky I think of the magic in the Universe and how small we are in comparison. Mystical and magical describes this petite original watercolor artwork.
This is an original watercolor painting not a print or reproduction.
The image for this petite painting is from my memories as a child living in the northeast. There is a wonderful lake where I grew up and you could on a summers night go and sit under the stars and watch the moon rise over the water.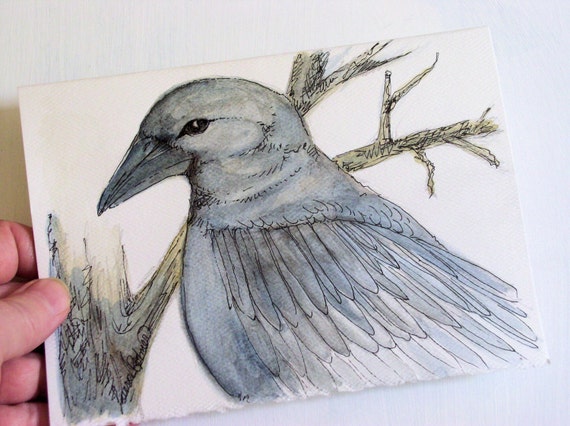 Buy original watercolor landscape art, inspired by nature, here at BetweenTheWeeds on etsy. You will love my individually hand-painted art cards. Great for gift giving.
I combined drawing with pencil with watercolor and then with ink.
I like crows and a little fact most people do not know but the crow is the third smartest animal to date. They are capable of figuring out which tool to use for the appropriate job or task before them. They have an extensive language and they keep our neighborhoods clean from road kill. Nice work crows.
This is an original watercolor painting not a print or reproduction.
Title: Crow
Image size: 4″ x 6″ inches
Card size: 5″ x 7″ inches
Medium: Winsor and Newton Artist Quality Watercolors on 140lb Strathmore card with deckled edges on card and envelope. .
Blank inside, each original art card comes with an envelope.
Sale includes the one signed art card only – additional cards, frame, mat etc. are not included in sale.
My art cards are original one-of-a-kind paintings that are suitable for framing. The card you will receive is very similar to the ones shown in this listing but may have some variations as each card is hand-painted and has it's own unique and individual qualities.
All of my watercolors are made with the finest archival quality materials – Strathmore Watercolor Paper and Windsor and Newton Artists Quality Watercolors – and professionally packaged to arrive safely.
Windsor and Newton Artist Quality Watercolors are renowned for their superior color permanence, balance and amazing color range.
All my art cards including this artwork are original miniature watercolors suitable for framing, enjoy them in your home or send as a unique gift to that special someone.