"When I chased after money, I never had enough. When I got my life on purpose and focused on giving of myself and everything that arrived into my life, then I was prosperous." – Wayne Dyer, best-selling author, speaker and personal favorite.
Fill your life with the fruits of your dreams and the bowl of prosperity will always be full. Thought these two painted works for those who love living life with fun and whimsy. Great for the summertime atmosphere and those farmhouse cottage kitchens and homes. Available at my shop Between The Weeds and ready to ship today.
Strawberries Watercolor Nature Art Painting Botanical Garden Original Artwork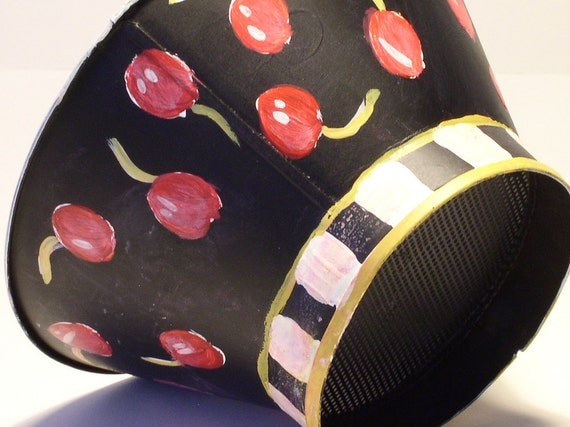 Painted vintage metal bowl furnishing with red cherries and checker board pattern in black and white on a black painted farmhouse cottage chic metal vintage sifter. The vintage metal sifter is primed and then painted black and bright red cherries decorate the outside with a black and white checkerboard around the bottom rim. This is the old way people used to sift their flour, imagine that.
Use it as a fruit bowl but I think it is great to hold a potted plant or soaps or candles or bills notes or keys. The uses are as many as you can think.
It is sealed with a lacquer.
It measures 8″ in diameter, 3.5″ high and has a 4″handle.
The bottom is 4.5″ wide.
Strawberries Watercolor Nature Art Painting Botanical Garden Original Artwork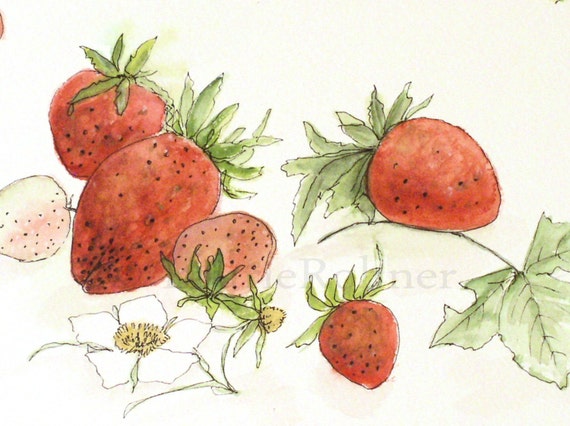 Nature art watercolor painting of strawberries picked in a botanical garden titled Summer Strawberries is original artwork by Laurie Rohner.
I love strawberries and don't my strawberries remind you of warm sunny days ice cream and strawberry shortcake. I bought some strawberries at the market the other day and while washing them decided to take a few to paint. Nice on cold winter days or hot summer days hanging in you cottage farmhouse kitchen porch or loft for a touch of whimsy.
Palette:green, red, umber.
Wall artwork for cottage chic, farmhouse and loft decor.
Arches 300lb hot pressed watercolor rag paper.
This is slightly rough thick hand made paper.
Image and Paper size is 7″ x 10″.
Unframed.
Small Fact: The paper is so thick you can attach a ribbon to the back and hang it.